About Healthy Schools New York
Healthy Schools New York (HSNY) is a network of 18 local agencies providing technical assistance and resources to schools and school districts in New York to develop, implement and support adherence to comprehensive school health policies for physical activity and nutrition. HSNY Coordinators focus efforts on Board of Education-approved physical education plans and nutrition. This approach to chronic disease prevention emphasizes changing systems and policies to create healthier environments for all school children in New York.
To request assistance from your local HSNY coordinator, click here.
Media Campaign
The Mind and Body is a statewide media campaign developed by the New York State Department of Health, Healthy Schools NY and Better World Advertising. The goal of the initiative is to improve physical education programs in New York K-6 schools and to engage school administrators in the development and implementation of physical education plans that comply with state regulations mandating 120 minutes of PE per week.
Materials from the campaign may be downloaded below.
PDF Posters
Click thumbnails below to download posters.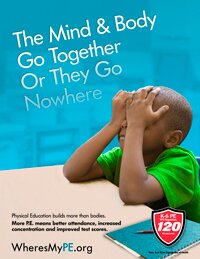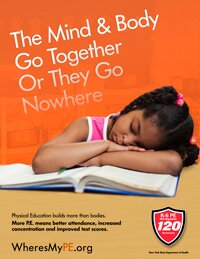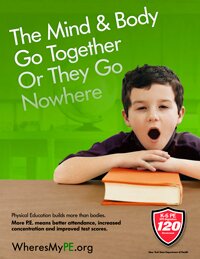 Web Banners
Copy and paste the following code to your website.

Banner 1:
<a href="http://www.wheresmype.org" target="_blank"><img src="http://www.wheresmype.org/images/Mind&BodyAfAmBoy468x60.jpg" border="0" alt="Where's My PE?" /></a>
Banner 2:
<a href="http://www.wheresmype.org" target="_blank"><img src="http://www.wheresmype.org/images/Mind&BodyAfAmF468x60.jpg" border="0" alt="Where's My PE?" /></a>
Banner 3:
<a href="http://www.wheresmype.org" target="_blank"><img src="http://www.wheresmype.org/images/Mind&BodyCauBoy468x60.jpg" border="0" alt="Where's My PE?" /></a>
Banner 4:
<a href="http://www.wheresmype.org" target="_blank"><img src="http://www.wheresmype.org/images/Mind&BodyCauGirl468x60.jpg" border="0" alt="Where's My PE?" /></a>